ISO Virtual Office Hours
March 20, 2020 - 12:00 am - December 31, 2020 - 12:00 pm
As of Friday, March 20, the ISO will operate virtually (no staff physically in the office) until further notice in line with MIT's COVID-19 response. All ISO Services will continue in a remote format.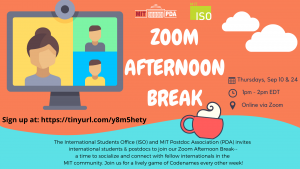 Zoom Afternoon Break
September 24, 2020 - 1:00 pm - 2:00 pm
Join your fellow international students and postdocs for a virtual zoom break and a lively game of Codenames every other week! Please sign up if you plan to attend.