Food
Walking Distance Food Shopping Stores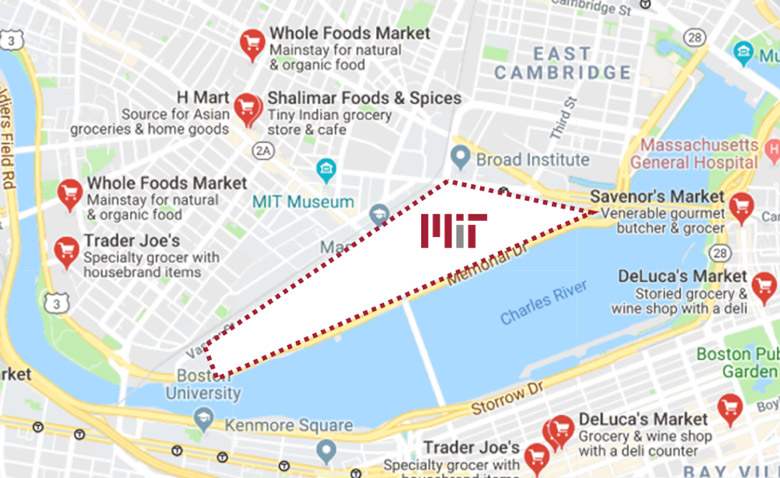 TechMart
At-cost grocery store on campus
Walker Memorial, Building 50
Daily Table (Central Square)
684 Massachusetts Ave, Cambridge MA 02139
Costs average of 30% less than other local supermarkets
Brother's Market (Specialty food market near Kendall Square)
1 Broadway
Food is pricier but convenient for the area
H Mart (Central Square; 10 mins from Ashdown and Sid-pac)
581 Massachusetts Ave, Cambridge, MA 02139
Target (Central Square; 10 mins from Ashdown and Sid-pac)
564 Massachusetts Ave, Cambridge, MA 02139
Trader Joe's (20 mins from Ashdown and Sid-pac)
748 Memorial Dr, Cambridge, MA 02139
Whole Foods Market (16 mins from Ashdown and Sid-pac)
115 Prospect St, Cambridge, MA 02139
Whole Foods Market at River Street (18 mins from Ashdown and Sid-pac)
340 River St, Cambridge, MA 02139
Grocery Shuttle at MIT
You can easily get to Target, Whole Foods Market and Trader Joe's by using MIT Grocery Shuttles!
Trader Joe's and Whole Foods Market
The MIT Parking and Transportation Office has been sponsoring a shuttle to transport MIT students to and from Trader Joe's and Whole Foods Market. More information here
Online Grocery Shopping
International Markets
Russian/Eastern European Food:
BAZAAR on CAMBRIDGE
424 Cambridge St. Allston, MA 02134
Indian Food:
India Market
315 Moody St.
Waltham, MA 02453
Make sure to check out the food court in the basement!
Hispanic, Caribbean & African Food:
Tropical Foods (El Platanero)
450 Melnea Cass Blvd, Roxbury, MA 02119
Haymarket
Affordable produce & other groceries
Hours: Friday, Saturday, Sunday 8AM to 5-6 PM
If you go by subway (T): Take the red line to Park street and then the green line to Haymarket
If you go by car: Haymarket Garage (Parcel 7) 136 Blackstone St.
You can ask sellers to validate your parking ticket, your parking rate will be $1 per hour; you can park for 3 hours maximum.